Reality exists even when we wish to live in a fantasy. What's your reality?
✧Given Name.: Neuma
✧Additional Name.: N/A
✧Surname.: Carpenter
✧Appearance Age.: Teenage 16-19
✧Actual Age.: 19
✧Gender.: Female
✧Sexuality.: Heterosexual
But if you could live a dream, who would you be?
✿Chosen Name.: Neuma
✿Additional Name.: Scarlet
✿Surname.: Death
✿Appearance Age.: Teenager 16-18
✿Actual Age.: 19
✿Gender.: Female
✿Race/Species.: Half-Breed (Is Demon/Human possible?)
✿Sexuality.: Heterosexual
How do you appear in your dream? Do you look as you do in reality or do you look how you wished at a time in your life?
✿Hair Color.: Blue-ish grey with some purple
✿Hair Style.: I don't know the first thing about hair. Short and messy with bangs I guess.
✿Eye Color.: Yellow but occasioally turn red.
✿Complexion: Full complexion, smooth skin, no real blemishes. Clear.
✿Height.: 5'6"
✿Weight.: 112lbs
✿Markings.: The Mark of Pride (of the Seven Deadly Sins) on her left "Arm"
✿Apparel.: Always wears a short, black tank-top and blue skinny jeans with black flats or boots. Her left "arm" is always Always ALWAYS wrapped in bandages.
How do you display yourself and how are you really in this dream?
☆Personality.: Neuma is mentally disturbed. She often tries to shut off her emotions in public because she feels that people try to take advantage of her. In her dream persona, it's more because she's utterly afraid that she might hurt someone. Mental control of her emotions is the only way to prevent catastrophe. She's generally quiet and responds very little at all to most things. She wants people not to like her and to leave her alone because she doesn't want to hurt anyone. But if someone were to confess a love for her, she'd most likely be stunned. She's deeply disturbed in multiple other ways. If her arm goes untended for too long without its bandages, she may become sadistic and just plain evil.
☆Temper.: She (unsuccessfully) excercises patience but she WILL eventually explode.
☆Sees Self As.: Generally speaking, she hates herself as a demon and isn't sure who exactly she is as a human.
☆Talents.: Exceptional Martial Artist
☆Inefficiencies.: Can't swim at all. When not in sneaky mode, pretty uncoordinated
☆Habits.: Says Sorry When Doesn't Need To, Shoots off at the mouth when nervous.
☆Fears.: She's afraid to show her emotions but the only PHYSICAL thing she's afraid of is herself.
✿Desires.:
✿Aversions.:


Demons

Darkness

Herself

Foul Language

Dreams can be bent so you are not the same as in reality, some bendings give you power and strength while others give you weaknesses.
✿Strengths.:


Brilliant Martial Artist

Intelligent

High Pain Tolerance

✿Weaknesses.:


Emotionally detached

Poor Judgemenst

Little Self Control

How do you defend what you care for?
✿Element.: Darkness
✿Special Ability/Gift.: Can walk in the land of the living or the great beyond (Heaven/Lake of Fire Respectively)
Explanation of Special Ability/Gift.: Can walk in both worlds by tearing open rifts between light and darkness, using her left "arm"

✿Weapon.: Soul Claw
Weapon Description.: Remember when I said she had to keep those bandages on her arm at all times? This is why. Her left arm is entirely consumed by the demonic weapon known as the Soul Claw. It is, without a doubt, the most powerful Soul weapon ever created by Death. It is a irect medium of life and death, able to bend the very forces of darkness at its fullest potential. The weapon is intended to only be able to slay demons but because of Neuma's living half, it seems just as capable of killing the living. It must be deprived of light to be hidden. As such, she wraps the arm in bandages, creating the illusion that she sustained a bad burn. The deprivation of light provides the shape of the regular arm beneath the bandages but the instant they're removed, the arm becomes that same black claw.

In reality, who would be your family?
☆Father.: Daniel Carpenter
☆Mother.: Ramona Carpenter
☆Siblings.: Roy Carpenter
☆Other.: N/A
What is your history?
✧Your Past.: She and her brother were an average pair. She was a brilliant martial artist and he was the kid brother with a love of pranks and soccer. Unfortunately, life doesn't last forever. On their way to soccer practice, Neuma drives. Suddenly the van is struck by an 18-Wheeler and thrown from a bridge, landing upside-down, killing both parents immediately and severely wounding both siblings. Then she passes out.
✿Your Dream.: The Dream itself picks up where her real life nightmare left off. The car had fallen over the bridge and both siblings were wounded. Then Roy died at the hands of the true incarnation of death. Neuma, able to see the specter, having died for a split second, begged for her brother's life. Death offered a proposition. He would revive her brother if the both of them would become Soul Reapers, harvesting the souls of those corrupted by two of the Seven Deadly Sins respectively. She accepted and he was "revived" but taken away instantly. There, the reaper attached a device to her arm that instantly consumed the entire thing, incasing it forever in this strange claw-like limb. Scarlet Death was born. Ever since, she has fought to do what she thought right.
Character Picture.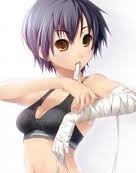 If I missed anything just tell me.